Revamp your website with our brand new Animated Web Graphics Pro PLR Graphic package! Packed with over 1,000 top-quality animated web graphics, this game-changing collection will take your online presence to the next level.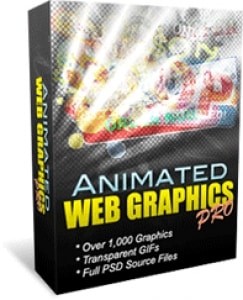 In just minutes, you'll have access to a wide range of transparent GIF files that seamlessly integrate into any website. Gone are the days of struggling with different background colors – our transparent GIFs work flawlessly on any backdrop, whether it's white, black, yellow, or anything in between.
But that's not all – we're giving you the power to customize these graphics to match your unique style and branding. With the included source PSD files, you can easily tweak the colors, styles, sizes, text, and more. All you need is Adobe Photoshop, Photoshop Elements, or Adobe Image Ready (which comes bundled with Photoshop).
Imagine transforming your website into a visually stunning masterpiece that captivates visitors and leaves a lasting impression. With Animated Web Graphics Pro PLR Graphic package at your fingertips, this dream becomes a reality.
Don't miss out on this incredible opportunity to enhance your online presence. Get ready to unleash your creativity and stand out from the competition like never before. Grab our Animated Web Graphics Pro PLR Graphic package today and experience the power of professional-grade graphics at your fingertips!
---