Is grilling a mystery to you? Do your steaks turn out either rare or burnt and tough as shoe leather? Then you need Be A Grillmaster!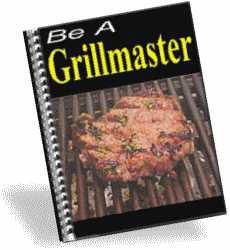 If your idea of grilling is to light the coals (and hope they stay lit) and throw the food on (hoping it cooks), then you need this book. Grilling is a learned art just like any cooking method and Be A Grillmaster will teach you that art in a concise and easy to follow manner. No time wasting fluff, just straight-forward, this is how to do it information.
This is what you will find inside:
The Basics Of Grilling : Covers what you need to know before you can even hope to become a grillmaster.
Building The Fire : The first step in successful grilling is knowing how to build the fire. This chapter will teach you the different types of fires and how to build them.
Cooking The Food : Now that you know how to build the fire and how to tell what temperature your coals are at, you need to know how to cook the food. This chapter gives you the tips you need on proper cooking.
Beyond The Basics : Direct And Indirect Methods Of Grilling – In this chapter you will learn how and when to use these two methods of grilling.
Searing-The Secret To The Perfect Steak : Learning the correct way to sear food on the grill will have everyone at your next gathering calling you the "grillmaster"
Rubs-Enhancing The Flavor Of Your Meats : Teaches you the proper way to add flavor enhancing rubs.
Appetizers On The Grill : Think grilling is a lonely and thankless job. Try making appetizers on the grill and you will have everyone gathering around and complimenting your expertise.
Learning the proper methods of grilling isn't difficult when you have the proper information. That is what Be A Grillmaster will give you.
---
License: Private Label Rights

Category: Cooking PLRFile Size:  0.84 MB