It doesn't matter what kind of business you're in, if you aren't able to generate new leads and turn them into paying customers, your company will never succeed.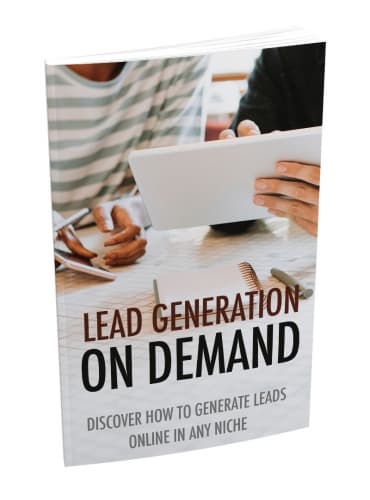 You need to be constantly bringing in new customers if you want your business to thrive.
Generating more leads is anything but easy and if you don't have a solid marketing strategy that will drive more traffic to your website, you'll never be able to generate the leads you need for your business to succeed. 
This comprehensive guide will show you how you can create lead generation on demand.
You will:
Discover the secrets to blogging that will help you generate more leads. 
Learn how to use social media to build stronger relationships with your target audience.
Discover why webinars are the best way to demonstrate your business expertise and win more customers. 
Learn how to generate more leads with a solid email marketing campaign. 
And much more!
Also you will learn:
The benefits of blogging frequently and how to generate more leads with your online content.
How to use social media to organically increase your follower and fans. 
The value of SEO and how to increase the visibility of your business and rank higher on Google. 
How to use webinars to demonstrate your credibility and authority in your industry. 
How to use email marketing to build stronger customer relationships and convert more leads to paying customers. 
And so much more!
Includes ready sales materials!
---