Ready to take your leadership skills to the next level? Introducing "Level Up Your Leadership PLR Video" – the ultimate guide for aspiring and current leaders who are determined to make a lasting impact.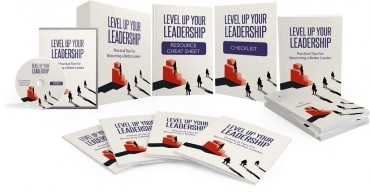 Whether you're just starting out or looking to enhance your existing leadership abilities, this comprehensive training program is designed to equip you with valuable insights, actionable tips, and practical steps that will transform you into an influential, inspiring, and impactful leader.
Discover proven strategies to navigate the challenges of leadership confidently. Learn how to effortlessly influence others, inspire your team, and leave a lasting impression on those around you. With "Level Up Your Leadership PLR Video," you'll gain the knowledge and skills necessary to seize every opportunity for growth and success in your leadership journey.
Don't settle for mediocrity when it comes to leading others. Invest in yourself today with "Level Up Your Leadership PLR Video" and unlock your true leadership potential. Get ready to soar above the rest and become the exceptional leader you were meant to be.
Topics covered:
3 Challenges Every Leader Must Face
5 Books That Can Help You Build Self-Discipline
5 Leaders to Learn From
5 Tips for Fighting Imposter Syndrome
Six Online Resources to Help You Get and Stay Organized
Six Tips for Having Difficult Conversations
8 Qualities of a Great Leader
How to Uncover Your Own Style of Leadership
How to Use Social Media in the Workplace
What's the Difference Between a Manager and a Leader?
Includes ready sales materials!
---
Product Price: $4.95
Product Type: VideosLicense: Master Resale Rights

Category: Self Help PLRFile Size:  181.2 MB