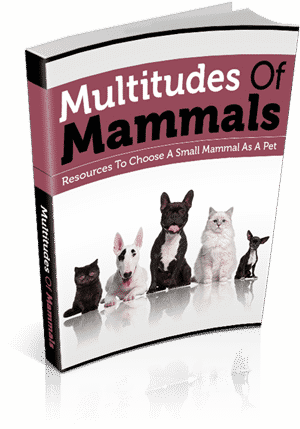 Learn valuable information for choosing a small mammal as a pet.
As with all animals, the decision to keep one as a pet, should only be done after due consideration is given to the thought process. Taking the time to gather a lot of knowledge on the subject and the availability of the supporting tools that would be needed for the comfort of the animal chosen should be the priority.
Finding out a little about each small mammal beforehand will help the individual make a more informed choice as to the best pick for a pet, which will suit the family unit. Look inside and find the information that will help you in your decision to get a pet that best fits into your household and family
In This Book, You Will Learn:
Small Mammal Basics
Research What Type Of Small Mammal You Want
Determine Which Pet Will Best Fit With Your Family
Consider Other Pets In The House
Consider Your Budget And Resources
And so much more!
---
License: Master Resale Rights

Category: Animals PLRFile Size:  1.7 MB