Unlock the power of virtual networking and take your connections to new heights with our Virtual Networking Success PLR eBook. In this comprehensive guide, we dive deep into the world of remote interactions, showing you how to leverage cutting-edge technology and social media platforms to expand your network like never before.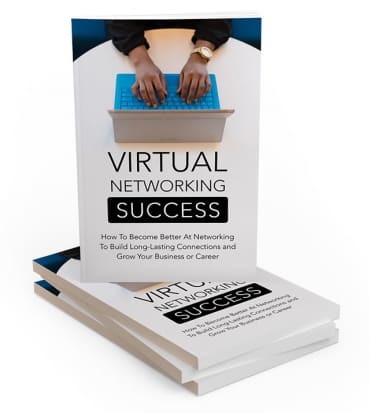 Say goodbye to geographical limitations and hello to a global network of opportunities. Whether you're an entrepreneur, professional, or freelancer, this eBook is your ultimate roadmap to building meaningful relationships, regardless of distance or office boundaries.
Discover proven strategies for making impactful connections through Zoom meetings, social media platforms, and other virtual tools. From crafting compelling introductions to nurturing long-lasting partnerships, we provide you with a step-by-step framework for effectively expanding your network from the comfort of your own home.
Don't miss out on the chance to make connections that were once unimaginable. Embrace the future of networking with our Virtual Networking Success PLR eBook and unlock a world of possibilities today!
Here's what you'll learn in this ebook:
Picking the right contacts to add to your virtual network.
How to make new virtual connections from anywhere in the world, without looking like a sales pitch
How to nurture your current connections so all your past work doesn't go to waste.
 Some of the best virtual networking tools that you use to make it easier to connect with others, including Zoom and Slack. 
All about virtual etiquette to help you master the virtual meeting and get ahead.
 How to make virtual networking work, even when you are an introvert. 
How to come up with the best networking strategy to finally see success. 
 The importance of social media and which sites to use.
How to connect your social media to your invites and other items for all of your connections.
 The best way to keep all of your work professional when you reach out to others on your list. 
How to make it easy for all connections to find you on social media, no matter which one you use. 
 How you can start on virtual networking, no matter what industry you are in. 
And much more!
Includes ready sales materials!
---
Product Price: $4.95
Product Type: eBooksLicense: Master Resale Rights

Category: Internet PLRFile Size:  59.1 MB