Introducing Web 2.0 Headers Version 2 PLR Graphic – the ultimate solution for creating stunning website header graphics, even if you have zero design experience! With our user-friendly templates, you'll be able to effortlessly craft professional-looking headers in mere minutes, without the need for expensive software like Photoshop.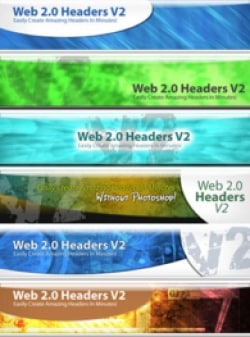 What sets our templates apart is their built-in special effects that can transform your headers from ordinary to extraordinary. Want grid lines? Just a few clicks away. Craving a sleek 3D shiny look? Again, just press a few buttons. These effects are pre-installed in each template, making it incredibly easy to achieve eye-catching results.
But that's not all – our templates are also highly customizable. Each part of the template is on its own layer, allowing you to tailor every aspect to your liking. Mix and match effects, resize and distort elements, change colors – the possibilities are endless! With each template, you can create thousands of different variations, ensuring that your headers stand out from the crowd.
Say goodbye to design limitations and hello to creative freedom with Web 2.0 Headers Version 2 PLR Graphic. Don't miss out on this game-changing tool that empowers even the most design-challenged individuals to create jaw-dropping website headers effortlessly. Get ready to impress your audience and take your online presence to new heights!
Here's exactly what you will get:
6 templates in different sizes in pixels: 780×200, 780×150, 780×100, 700×200, 700×150.
Each template will come pre-installed with "effects", "shapes", and other elements that make up a professional design. All of this stuff is already created and all you have to do is check off or uncheck some boxes, and move some things around.
Video instructions on how to use these templates so you can be up and running ASAP.
---