Discover the ancient secrets of yoga with our exclusive private label eBook, "Yoga Secrets Revealed." Whether you're a beginner or an experienced practitioner, this guide is your gateway to achieving greater enlightenment, a toned body, and overall well-being.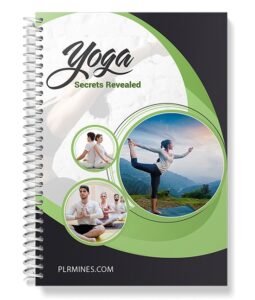 Uncover the philosophy that has withstood the test of time for over 5,000 years. Yoga is not just an exercise; it's a way of thinking and living. It's about finding union within yourself and embracing a holistic approach to health and wellness.
With our eBook as your trusted companion, you'll learn various yoga practices tailored to your specific goals and needs. From enhancing flexibility to relieving stress and even managing disease, there's a yoga practice for everyone.
But what good is knowledge without visibility? That's where search engine optimization (SEO) comes in. Our eBook not only provides you with valuable yoga insights but also equips you with strategies to optimize your website for maximum visibility on search engines like Google.
By implementing SEO techniques, you'll attract more interested viewers to your site, boosting its ranking and driving targeted traffic. Let our eBook be your growth strategy in the ever-competitive online world.
Don't miss out on this opportunity to unlock the power of yoga and elevate your online presence. Get your hands on "Yoga Secrets Revealed" today and embark on a journey towards self-discovery, physical vitality, and digital success.
---
Product Price: $4.95
Product Type: eBooksLicense: Private Label Rights

Category: Fitness PLRFile Size:  17.9 MB