Are you tired of empty promises and ineffective methods? Look no further! Introducing the game-changing "1 Percent Better Every Day" PLR Video. This comprehensive program is the answer to all your dreams of getting richer, healthier, happier, and more productive. Uncover the proven strategies that successful individuals use to achieve their goals, step-by-step, in crystal-clear detail. Say goodbye to mediocrity and unlock your true potential with this life-changing resource. Don't wait another day – start your journey towards success now!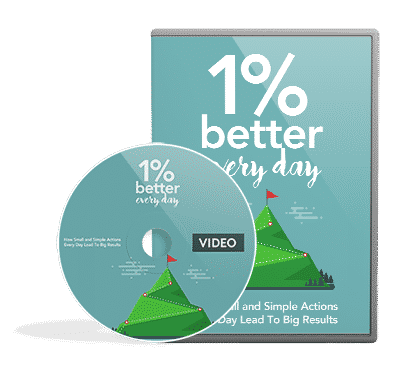 Now You Can Get Instant Access To a 10-Part Training Series To Help You Get Ahead Even More…
Video Titles
01 – 5 Tiny Changes That Can Make You More Productive
02 – 5 Tiny Changes That Will Make You Happier
03 – Do This for Just 1 Minute a Day and Your Life Will Change
04 – How to Apply Kaizen in Your Relationships
05 – How to Break a Bad Habit in 3 Easy Steps
06 – How to Create New Habits in 3 Easy Steps
07 – How to Get Rich by Saving Tiny Bits of Money
08 – Small Things You Should STOP Doing Right Now
09 – The Kaizen Approach to Dieting
10 – You've Been Writing Goals All Wrong
See eBook version HERE.
---
License: Master Resale Rights

Category: Self Help PLRFile Size:  54.7 MB