Attention entrepreneurs and marketers! Are you tired of spending endless hours and hundreds of dollars on designing your website? Look no further, because we have the ultimate solution for you – 30 MiniSite PLR Templates 2022!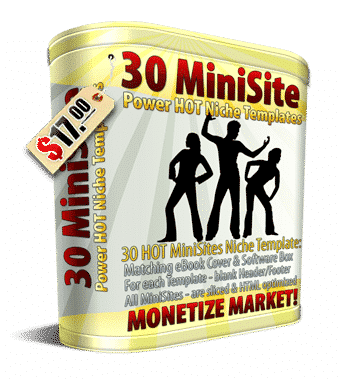 Imagine having access to 30 professionally designed, power-packed niche templates that will leave your customers drooling. These templates are meticulously crafted to make your website stand out from the crowd and captivate your audience like never before.
Say goodbye to expensive designer fees and countless hours wasted on finding the perfect graphics. With our MiniSite PLR Templates, you can save precious time and money while still achieving a stunning website that screams professionalism.
Don't settle for mediocre visuals when you can have the best deal on graphics right here. Our challenge to you is simple – find a better offer anywhere else. We guarantee that these templates will exceed your expectations and give your website the visual boost it deserves.
Don't miss out on this opportunity to elevate your online presence. Grab our 30 MiniSite PLR Templates 2022 now and unlock the secret to effortlessly creating a visually stunning website that will leave your competitors in awe.
---