Introducing the "Beyond The Limit Video Upgrade" – your ultimate guide to unlocking the power within and conquering any obstacle that comes your way. We understand that going it alone can be tough, which is why we're here to help you build a network of support, and teach you how to harness the incredible potential of your own mind.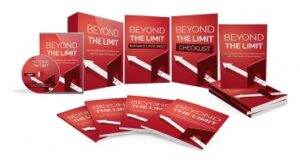 In this comprehensive video course, we dive deep into the strategies and techniques that will empower you to bounce back from setbacks and achieve unprecedented success. From overcoming self-limiting beliefs to persevering through unexpected setbacks, we provide practical insights and actionable steps for you to follow.
Discover the driving forces of perseverance and understand why mental toughness is crucial for success. Learn how positive self-talk can transform your mindset and explore three effective ways to cultivate self-discipline. Break free from your comfort zone with our three compelling reasons to take that leap.
Don't let life's challenges hold you back any longer. With "Beyond The Limit Video Upgrade," you'll gain the knowledge and tools needed to build a strong support system, overcome adversity, and embrace a life of limitless possibilities. It's time to go beyond your limits and unlock your true potential.
Are you ready for an extraordinary journey? Get started today!
---
Product Price: $4.95
Product Type: VideosLicense: Master Resale Rights

Category: Self Help PLRFile Size:  189.1 MB