Introducing the Clickbank Blogging PLR eBook, your ticket to building a lucrative business as a professional blogger!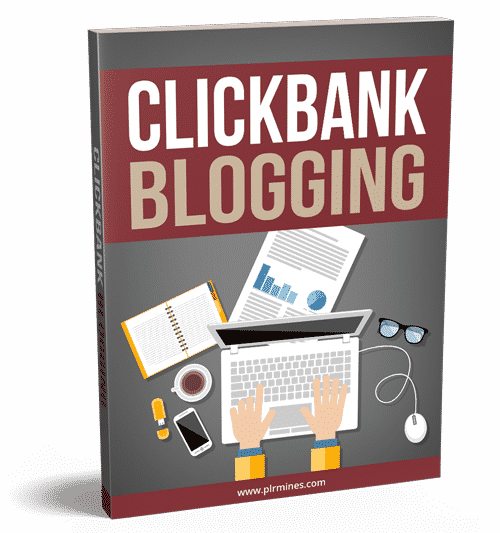 With this comprehensive guide, you'll learn the insider secrets to promoting Clickbank products and earning massive profits. Imagine making money by simply writing reviews for products you didn't even create! This step-by-step eBook provides you with all the tools and strategies you need to get started without requiring your own product or service. Don't miss out on this incredible opportunity to create a highly successful blogging business and generate a substantial income. Get your hands on the Clickbank Blogging PLR eBook today!
If you answer yes to one or all of these questions, you're in luck because you're about to learn how to start a business selling online almost instantly with no products of your own to sell, which means no expensive either!
You can sell other peoples products for a cut of the action and let them do all the hard work! I'm going to show you how you can earn up to 75% of every sale you make a promoting products on the Clickbank marketplace.
You've probably heard about being an affiliate before.
You may have also heard of Clickbank. Clickbank is a marketplace where tens of thousands of product creators list their products for sale and you can sell them as an affiliate.
You're going to learn my simple system for learning how to create blog review sites to promote these products for up to 75% of the profits.
for up to 75% of the profits.
You'll discover my secrets choosing the best product to promote and becoming an affiliate that people not only respect, but want to do extra special favors for…like increasing your commission or pay you bonuses!
Keep reading for more details.
Discover what it takes to launch your own Clickbank product review blog. Before you know it you will have made your first sale and not long after that hopefully your 100th sale will come rolling in.
You'll learn how to choose the best product to promote as well as how do to get traffic from unlikely places that converts like crazy and costs almost nothing.
Even if you have no experience, no product, no service, you can STILL make money and become an affiliate promoting products on Clickbank.
In fact, many of the top super Clickbank affiliates online only started this year and have rocketed have rocketed to success in less than 12 months.
You'll learn the super secret setup tactics that will allow you to start promoting other people's products today on your own review blog.
Becoming an affiliate is one of few business models which allow you to be a complete newbie today and generating traffic as soon as this time next week!
All you have to do is take action and you can start making money from other people's products.
They do all the work, create the products, handle the support, deal with the customer, process the payment, and you get a check for everyone that buys!
It doesn't get much better than that, keep reading about learn how the Clickbank marketplace can make you rich!
---