Make Thousands of Dollars in the Cosmetic Surgery Niche!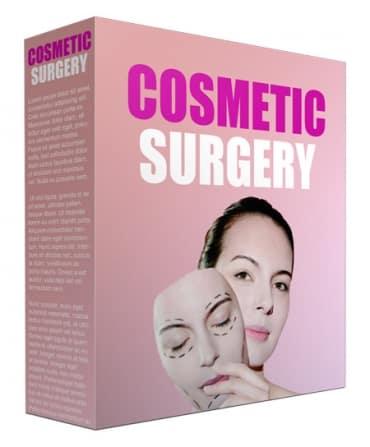 Are you unhappy with the appearance of your face? Do you have scars, problems with acne, or is your face starting to show the early signs of aging?  If so, you may be curious as to what all of your options are.  
Despite the fact that you do have a number of different treatment options, many men and women in your shoes opt for cosmetic surgery.
So, should you get a cosmetic surgery faceliftt?  Of course, there are a number of factors that you will want to take into consideration when determining so.  
There are, however, signs that you will want to look for.  If these signs, five of which are outlined below, apply to you, a cosmetic surgery facelift may be in your best interest. Learn more inside.
Below are the few article titles that this package has:
5 Signs You May Need a Cosmetic Surgery Facelift
Common Cosmetic Surgery Alternatives
Common Cosmetic Surgery Procedures
Cosmetic Dental Surgery:  What You Need to Know
Cosmetic Surgery Abroad: Is It Really Cheaper?
Cosmetic Surgery and Teens:  Is It a Good Idea?
Cosmetic Surgery and Weight Loss
Cosmetic Surgery Before and After Pictures:  Why You Should Examine Them
Cosmetic Surgery:  How to Protect Yourself
Cosmetic Surgery in Larger Cities:  Why It May Be Best
---
License: Private Label Rights

Category: Beauty PLRFile Size:  2.40 MB