There aren't many more efficient ways to get free exposure for your business than a properly marketed, well-written press release. A press release, when prepared correctly, has a certain news-like feel that lends an air of respectability to your business.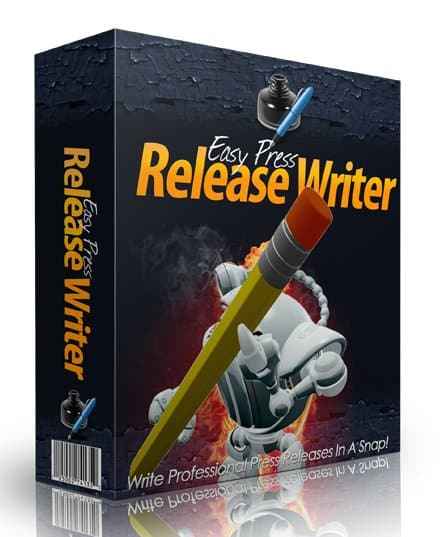 Maybe you're already convinced that press releases can boost your business exposure, but you just don't have the money to pay a professional writer.
What if you could learn the right format and write your own press releases? With the right tools, you can learn to write very effective press releases with just a little time and effort – and no expense at all.
"Easy Press Release Writer" is incredibly easy to use. The software simply asks you a series of questions, and when you have finished, it creates the perfect-looking press release in HTML. That's right: all you have to do is answer the questions, and the software does the rest.
So instead of struggling with writer's block or trying to figure out the best way to get started, the software will simply guide you through the questions, saving you time, money, and frustration.
Not only will this amazing new tool save you the hassles of writing from scratch, but you can also sell it yourself to other Internet marketers.
Stop paying outrageous fees to copywriters. Get your copy of "Easy Press Release Writer" and start turning out your own press releases at no additional cost. You may put a few copywriters out of work, but your banker will thank you for it!
---