Twitter is one of the most exciting new technologies to come along in a long time. Really, the idea behind Twitter has been around for centuries: People love to hear what the rich and famous and successful are doing, but they also don't have a lot of patience for reading chunks of text. So Twitter is the perfect way for people to stay in touch without investing more than the few seconds required to read a short message.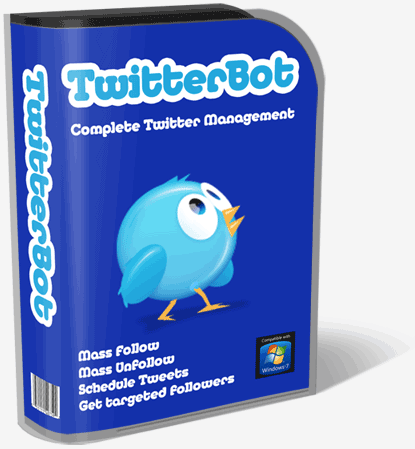 And Twitter is not just for Hollywood stars. Businesses of all types and sizes have learned to tap into the power and appeal of Twitter. But for most Internet marketers, with limited time and resources, managing multiple Twitter accounts can be overwhelming.
What if there were a tool to automate the process for you so you could focus your time on building your business rather than maintaining your Twitter accounts?
Well now there is! "TwitterBot" is an amazing piece of software that lets you automate your Twitter marketing plan, so that you don't spend all day sitting in front of the computer. You can manage multiple accounts with ease. You can also do keyword research, add users, and also quickly remove all the users who are not following you back. Also, the software automatically schedules posts from a text file, so you can relax or work on other projects while the software sends out timed tweets 24/7.
Take back control of your life and your schedule. Get "TwitterBot" today and learn how easy it can be to manage all your Twitter accounts with one tool. Of course you get master resell rights on the software, along with an instructional video and all of the tools you need to promote the software package. So not only can you put this amazing tool to use for yourself, but you can also make money selling it to other Internet marketers desperate for help in managing their Twitter accounts.
---