Introducing the Easy Weight Loss PLR eBook – your ultimate guide to achieving a healthier, fitter you! This season, don't let stress and overwhelming responsibilities hinder your fitness goals. With our carefully crafted workout plan and expert tips, you'll be able to kick-start your journey towards a healthier lifestyle.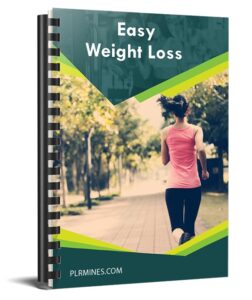 Discover the secrets to overcoming common hurdles like emotional eating and time constraints. Our comprehensive guide will equip you with the knowledge and strategies to tackle these challenges head-on. By shedding even a small amount of weight, you'll experience an array of health benefits – reduced risk of diseases like diabetes and heart disease, improved sleep quality, and lowered blood pressure.
This eBook is packed with valuable insights that will empower you to make lasting changes. Written by industry experts, it provides actionable steps for achieving sustainable weight loss. Don't rely on quick-fix solutions anymore – invest in your long-term well-being with our Easy Weight Loss PLR eBook.
Don't miss out on this opportunity to take control of your health and transform your body. Order now and embark on a journey towards a healthier, happier you!
---
Product Price: $4.95
Product Type: eBooksLicense: Private Label Rights

Category: Weight Loss PLRFile Size:  15.8 MB