Level up your business with the power of webinars! Introducing "Get Started With Webinar PLR eBook" – your comprehensive guide to becoming a confident and captivating webinar speaker. Whether you're a seasoned pro or just starting out, this book has got you covered.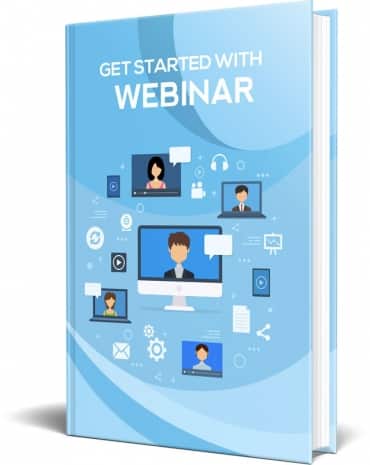 Unlock the secrets to hosting highly engaging webinars that leave your audience craving for more. From mastering Q&A sessions to working seamlessly with co-organizers, this eBook will equip you with the knowledge and skills needed to host the best webinar possible.
Discover the essential equipment needed for flawless presentations, and learn how to hire staff that will ensure your webinar runs like clockwork. With real-time information delivery and interactive features, webinars have become one of the most effective ways to promote businesses today.
Don't miss out on this opportunity to become a passionate and influential speaker in the digital realm. Get your hands on "Get Started With Webinar PLR eBook" now and take your communication skills to new heights!
Topics covered:
Pre-Requisites Required to Host a Successful Webinar
Picking a Niche and Selecting Your Topic
Advertising & Promotion
Getting Your Presentation Ready
Handling Queries
Being the Best Presenter
Co-Organizers,  Webinar Partners & Staff
Monetizing Your Webinar
And much more!
---
Product Price: $4.95
Product Type: eBooksLicense: Private Label Rights

Category: E-Marketing PLRFile Size:  15.1 MB