Many People Are Under The Impression That They Need A Trunk Full Of Expensive Equipment And Software To Broadcast A Live Stream On The Internet. NOT TRUE – What You Need Is Instruction From A Professional And This Video Course Is
Going To Give You Just That!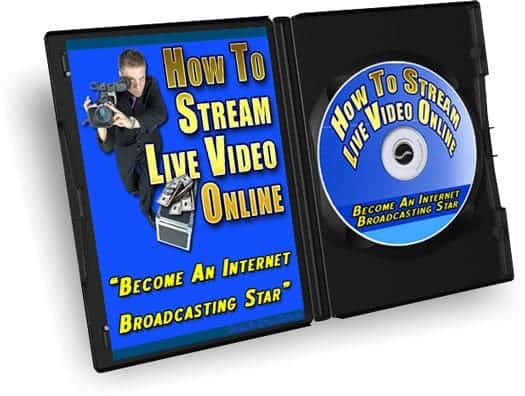 Introducing How To Stream Live Video Online – This easy to follow video how-to course will get you started in no time at all. You will learn step by step how to use free resources to create a professional live stream that can be broadcast to the world, or only to those you allow.
The 50 minute video tutorial course consists:
Video 1: Introduction
Video 2: Streaming Your Video Shows – This is where you learn the basics and setup to get ready for a live broadcast.
Video 3: Going Live – Walks you step by step to ensure your have everything ready to go live!
Video 4: Recording Your Shows For Playback – You can record your live broadcast and create archives for later viewing.
Video 5: Trick Out Your Online Profile – Add some sparkle and pizazz to your online profile.
Video 6: Adding Text and Special Effects – Add text or images to your broadcast as a overlay.
Video 7: Mixing Multiple Audio Sources For Your Show – It is simple to mix other audio sources to your live or recorded broadcast.
Video 8: Streaming Using Skype Audio – You can have Skype users "call in" live to your show and broadcast their audio!
---
License: Master Resale Rights

Category: Internet PLRFile Size:  198.8 MB