Protect your business and secure your future with the Internet Business Legal Options 2021 PLR eBook. Don't fall victim to unforeseen legal troubles that can wipe out everything you've worked hard for.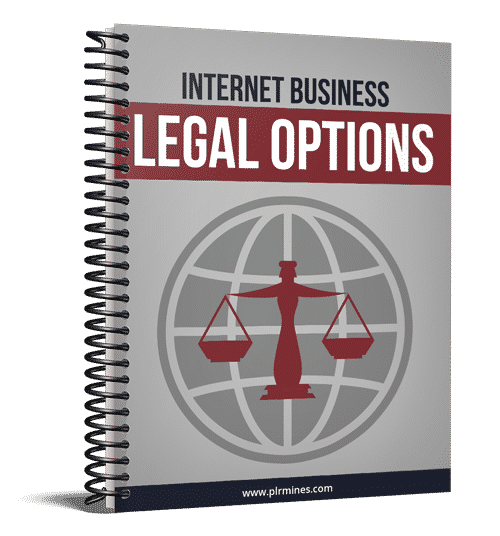 Whether you're a small business owner or an aspiring entrepreneur, this comprehensive guide is your key to safeguarding your assets and ensuring long-term success.
Discover the secrets to finding the right attorney or legal service quickly and affordably. No longer are attorneys exclusive to the wealthy – now you can access expert advice without breaking the bank. With step-by-step instructions, you'll gain the knowledge and confidence to protect yourself, your family, and all your valuable possessions.
Don't wait until it's too late. Take control of your legal matters and gain peace of mind knowing that you're prepared for any potential threat that may come your way. Get your hands on the Internet Business Legal Options 2021 PLR eBook today and fortify your business against financial tragedies. Your future depends on it!
Have you seen stories on the news about people losing everything in a failed business or because of a lawsuit?
Maybe you've heard of a business locally getting in big legal trouble (this is more likely).
Do you think that could be you?
If you think for one second that you're in the clear just because you run an online business from you home, you better think again.
Bad things can happen if you aren't legally prepared.
And before you start thinking "Attorneys cost a fortune," that's no longer the case! No pun intended.
You're going to discover how average Joe's and Jane's the world over are working with attorneys and legal services to protect themselves.
In fact, attorneys can actually save you money.
In Internet Business Legal Options, you'll discover the best way to find an attorney you can really trust.
Better yet, you'll also see how to find a bargain in legal services without having to sacrifice quality.
---
License: Private Label Rights

Category: E-Business PLRFile Size:  2.80 MB