Introducing the Mobile Business Empire PLR eBook – Your ticket to running a successful online business with ultimate mobility! We understand that in today's fast-paced world, having a business that is adaptable and can be operated on-the-go is essential.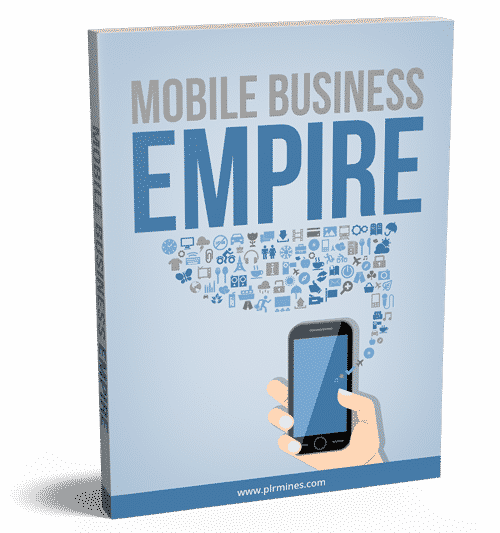 That's why we've curated a comprehensive guide filled with invaluable techniques and strategies to help you master the art of running a mobile business.
Whether you're a seasoned entrepreneur or just starting out, this eBook will equip you with the knowledge and tools needed to set up your business for complete mobility. From harnessing the power of technology to work efficiently while traveling or in different locations, to managing your business remotely without missing a beat – we've got you covered.
Imagine being able to go on vacation and still have the flexibility to handle last-minute tasks or check on your business after dinner. With our Mobile Business Empire PLR eBook, you'll gain insights into creating a thriving business that gives you the freedom and control to work anytime, anywhere.
Don't miss out on this opportunity to unlock the secrets of building a successful mobile business empire. Get your hands on our eBook today and elevate your entrepreneurial journey like never before!
Did you know there are specific strategies for running your business that allow portability?
Do you know how to ensure that your business is not only portable and mobile but successful?
If you answered no to either of these questions, don't worry, you're not at all alone there!
The truth is, most people who run an online business have no clue about making their business portable.
They don't know what strategies work for a mobile business to ensure complete mobility.
In The Mobile Business Empire, you learn how to setup your business in a way that allows you to do what you want when you want.
Want to go on vacation? No problem.
Want to spend a few months on a spiritual journey in some other country? Go for it!
---
License: Private Label Rights

Category: E-Business PLRFile Size:  3.70 MB