Introducing the JV Marketing King PLR eBook – your ultimate guide to unlocking the power of successful joint ventures! Discover the secret formula for finding the perfect partner and skyrocketing your chances of success. With expert tips and strategies at your fingertips, you'll navigate the world of joint ventures with ease.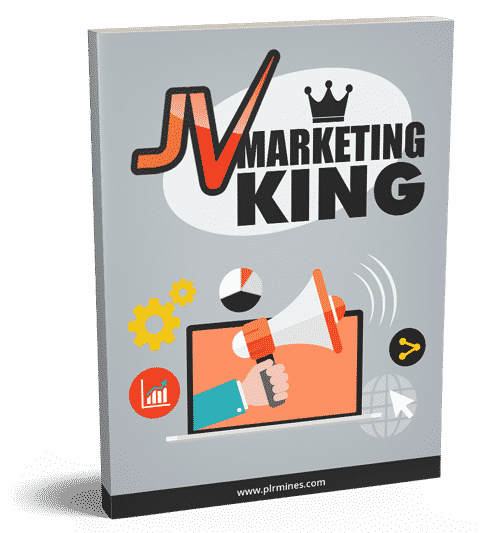 Don't leave your partnership to chance. Learn how to identify compatible partners, avoid common pitfalls, and create a win-win collaboration that will take your business to new heights. Whether you're a seasoned entrepreneur or just starting out, this PLR eBook is packed with valuable insights that will revolutionize your approach to joint ventures.
Don't let another opportunity slip away. Grab your copy of JV Marketing King today and become a master at finding great partners for unstoppable success!
Don't let your personal feelings cloud your judgment. If you make gourmet dog treats and your best friend owns a car detailing business, you might be tempted to to try to find a way to make a joint venture work. But with businesses that are so vastly different, a successful joint venture is highly unlikely.
Look for businesses that serve the same market as you and complement what you have to offer. Going back to the dog treats example, perhaps you could seek a joint venture with a dog groomer. Both businesses are geared toward caring pet owners, but they serve them in different ways.
Look before you leap. When you find a business that seems perfect as a joint venture partner, be sure to check it out thoroughly before you sign on the dotted line. Is it financially stable? Are its current customers generally happy and loyal? Has it participated in successful joint ventures in the past? If you see any red flags, you might want to proceed with caution or look for another partner.
Choosing the right partner is crucial to the success of your joint venture. But there's more to it than that.
If you want to see first-hand how a great joint venture can boost your business, order your copy of "Joint Venture Marketing: Creating Profitable Partnerships for Long-Term Growth." It details everything you need to know to get started on the right foot.
---