Want to make your graphics stand out? Instantly Spice Up All Of Your Headers, Banners, eCovers, Videos, Splash Pages And All Other Graphics. Brand New Collection of 36 Original Designs!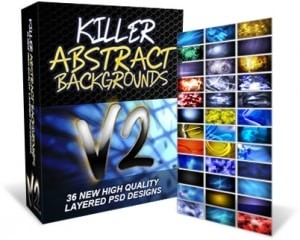 You can spice up and improve pretty much any kind of design with a nice abstract background. You can use plain text, with a nice background and nothing else, and you'll have a cool simple design. Fast and easy. Ofcourse if you're not a design pro, these background effects could be hard to create.
Highly customizable layered PSD source files : Each of these background images comes in a layared PSD format. That means you can take each element you see in the design, and customize it to your liking. Turn certain effects on and off, mix them up, move them around, resize them, flip and rotate them, change the colors, combine two or more designs together, take just one certain effect like a grid, and add just that one effect to your design, etc.
There's thousands of different ways to customize these graphics. So you can use them as is, and have a nice design ready to go in minutes, or you can customize them and create your own unique designs.
---