Introducing the Life Of Contentment PLR eBook – your ultimate guide to finding true happiness in a world filled with distractions and discontentment. In today's fast-paced society, it's easy to get lost in the constant craving for more. But what if I told you that contentment is within your reach?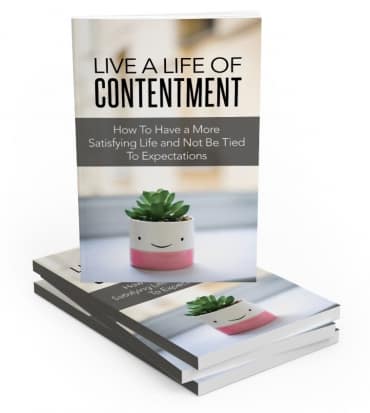 This comprehensive eBook is designed to help you cultivate a mindset of gratitude and satisfaction in every aspect of your life. Whether it's your body, career, or relationships, we'll show you how to embrace self-love and find fulfillment from within.
With practical tips and actionable strategies, you'll learn how to navigate through the noise of social media and societal pressures. Discover the power of discipline and alter your perspective to create a life that exudes contentment, regardless of external circumstances.
So why wait? Take control of your happiness today with the Life Of Contentment PLR eBook. Embrace self-acceptance, value yourself, and unlock the secrets to living a truly fulfilling life. Grab your copy now and embark on a journey towards lasting contentment!
This informative guide will give you guidance on how you can make a life that is content regardless of outside factors that might be going on around you.
Here is what you'll learn:
How satisfaction is a mindset that can be controlled to help you feel more content; 
How you can benefit from adopting new behaviors changing your mindset;  
Why you need to get rid of toxic social media; 
How to refocus your mind to stay content;  
How to practice satisfaction in every area of life; 
How to create a self-care routine that will help you stay grounded in the present moment; 
How to be satisfied without staying stagnant in your current situation and relationships; 
Important ways to tame your inner voice and change the negative thoughts into positive ones; 
Important habits that might be a sign that your relationship with social media is toxic; 
Ways and suggestions to help you try new things and form new habits;  
Successful techniques to focus on what really matters to be more content; 
How you can practice resting when you need to even if the world around you is chaos;  
Customized activities that will help you become content right away and start improving your relationship with social media and with your inner voice; 
Practical ways to be more content in your daily activities;  
Techniques to be more comfortable in your current situation; 
Over 20 additional resources that will deepen your knowledge and help you embrace your life; 
And so much more!
Includes ready sales materials!
---
Product Price: $4.95
Product Type: eBooksLicense: Master Resale Rights

Category: Internet PLRFile Size:  62.8 MB