Are you ready to dominate the world of list building and unlock a perpetual stream of income? Introducing List Building Aces, the ultimate PLR video package that will take your online business to new heights! This isn't your typical newbie stuff – we're talking about hardcore methods that will have you banking serious cash in no time.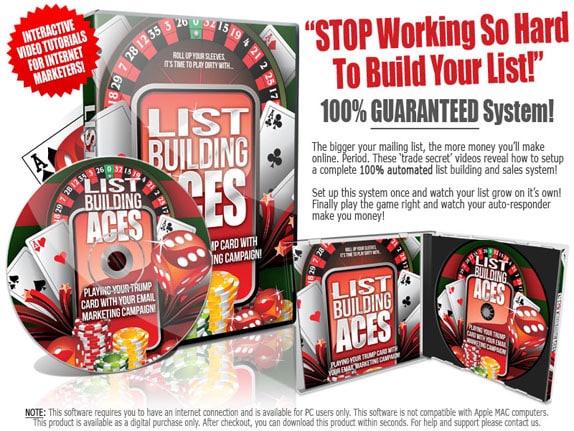 Forget about wasting your time with tire-kickers. With List Building Aces, you'll learn how to build a pool of hot, hungry buyers who are eager to give you money every time you ask for it. Say goodbye to struggling for sales and hello to a steady flow of repeat customers!
Inside this power-packed package, you'll discover the secrets to setting up the List Building Aces system just once, allowing you to grow your list, build your brand, and generate automated sales. And the best part? All you need to do is add traffic!
But that's not all – we'll reveal the missing ingredient that other marketers conveniently forgot to share when they said "The Money's In The List." Get ready for a revelation like no other!
With List Building Aces, you'll dive deep into the entire scheme, uncovering the new anatomy of a squeeze page unlike anything you've seen before. Plus, we'll show you how to maximize repeat sales from customers who have already bought from you.
And here's where it gets exciting – our system is equipped with not one but three profit centers and a traffic multiplier. It's like having four cornerstones working together seamlessly!
But wait, there's more! We'll also teach you the art of Squeeze Page "Black Belt" writing and so much more! Get ready to unleash your full potential as a master list builder.
Don't miss out on this opportunity to become a true ace in list building. Grab your copy of List Building Aces PLR video now and start paving your way towards endless success!
---