Introducing the "Magic of 100% Commission Money" PLR eBook – your ultimate guide to attracting a massive list and driving traffic by leveraging the power of 100% commission programs. But before you dive headfirst into this exciting opportunity, let us shed some light on the hidden truths behind these seemingly irresistible offers.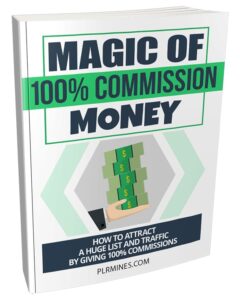 While many sites claim to offer amazing deals, only a handful actually deliver on their promises once you dig deeper into the fine print. Hidden costs and unforeseen circumstances can quickly eat away at the initial allure of a 100% commission offer.
But fear not! Our eBook separates the wheat from the chaff. We reveal reputable sites that have mastered the art of delivering on their 100% commission promises by implementing proven strategies that eliminate any hidden surprises.
Imagine being able to earn immediate rewards for your hard work as an affiliate or JV partner, without having to wait for eternity to see any profits. With our carefully curated insights, you'll discover how to stay motivated and maximize your efforts while enjoying instant gratification.
Don't fall victim to false promises and wasted efforts. Arm yourself with knowledge and make informed decisions in the world of 100% commission programs. Grab your copy of "Magic of 100% Commission Money" now and unlock the secrets behind this lucrative opportunity. It's time to take control of your financial destiny!
---