Are you tired of feeling chained to your phone? Break free from the grips of phone addiction and reclaim your time, creativity, and productivity with our comprehensive guide – "Overcome Phone Addiction."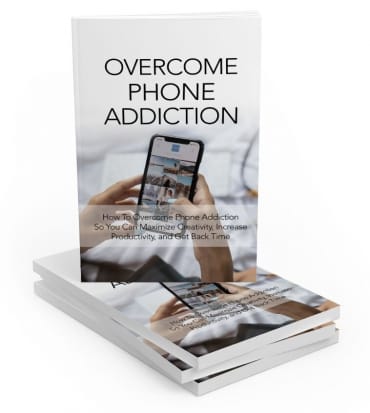 Did you know that a staggering 60% of U.S. college students admit to having a cell phone addiction? It's time to take control and find balance in the digital age.
Imagine waking up in the morning with a clear mind, ready to tackle the day ahead, without the immediate urge to reach for your phone. Our guide will provide you with valuable insights and practical strategies to minimize your phone addiction.
Discover how to maximize your creativity by freeing yourself from constant distractions. Say goodbye to endless scrolling and hello to focused work sessions that yield tangible results.
Increase your productivity by learning effective time management techniques that will help you prioritize tasks and stay on track. No more wasting precious hours on mindless browsing or social media scrolling.
Don't let your phone dictate your life any longer. Take back control and invest in yourself with our "Overcome Phone Addiction" guide. It's time to break free, unlock your true potential, and live a more fulfilling life.
Topics covered:
How to beat cell phone addiction
10 different signs of cell phone addiction
How to notice phone addiction in others
Why you should build connections with real people
Why social media is so addictive
5 reasons why putting your phone away for 24 hours is healthy
Tips to avoid checking your phone too much
Why you want to step away from social media
Ways to avoid phone addiction
Resources to assist with phone addiction
What to do if your teen is addicted to their phone
The importance of limiting screen time
Why you don't want to use your phone in bed
And much more!
Includes ready sales materials!
---
License: Master Resale Rights

Category: Self Help PLRFile Size:  51.0 MB