Ready to reclaim your time and skyrocket your productivity? Introducing the game-changer you've been waiting for: Reclaim Your Time PLR Video. This ultimate video guide is designed exclusively for those who aspire to become top achievers and highly successful individuals.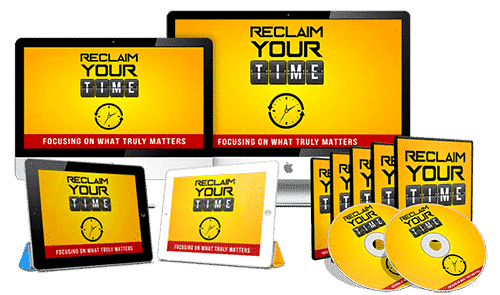 Discover the secrets of time management, prioritization, and productivity that set apart the world's elite. With Reclaim Your Time, you'll unlock the power to accomplish more than you ever thought possible within the same 24 hours that everyone else has.
Imagine getting more things done in less time and effort. Picture experiencing exponential income growth without sacrificing precious hours. Envision dominating your life by becoming the absolute best version of yourself.
But it doesn't stop there. Reclaim Your Time enables you to create a massive impact in your own life and be a positive influence on those around you. Live a purposeful life and leave behind a legacy that will last forever.
Become the top performer in both your personal and professional life. Embrace positivity, creativity, high-energy, and unwavering motivation as you unlock your true potential.
The topics covered in this comprehensive guide are vast, starting with getting to know yourself – a crucial step towards effective time management. From there, you'll delve into various techniques and strategies that will revolutionize how you approach tasks and projects.
Don't let another minute slip away from your grasp. Take control of your time, double your productivity, and accomplish more than ever before with Reclaim Your Time PLR Video. The journey towards success starts now!
Download the eBook Version here.
---
License: Master Resale Rights

Category: Self Help PLRFile Size:  258.4 MB