Are you tired of living a mediocre life? Ready to break free from the shackles of routine and transform every aspect of your existence? Look no further! Introducing "Redesign Your Life" – the ultimate guide to unlocking your full potential and living your best year yet!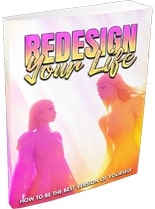 No fluff, no empty promises – this system is backed by timeless wisdom that has stood the test of time. It's a proven method that delivers real, tangible results. Whether you want to achieve career success, improve your relationships, or enhance your overall well-being, our step-by-step approach will guide you every step of the way.
Say goodbye to mediocrity and hello to a life filled with purpose, passion, and fulfillment. Join countless individuals who have already experienced the transformative power of "Redesign Your Life." Don't settle for less when you can have it all. Embrace this opportunity to create the life you've always dreamed of!
---
Product Price: $4.95
Product Type: eBooksLicense: Master Resale Rights

Category: Self Help PLRFile Size:  44.5 MB