Tired of spending hours on social media with little to no results? Say goodbye to frustration and hello to success with our "Social Media Marketing Made Simple" PLR eBook. Unlock the secrets to increasing your social media presence, creating captivating content, and building a thriving audience that's ready to buy from you.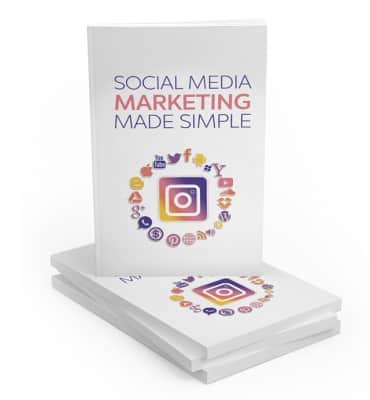 In today's digital age, social media is a must for any business. But simply posting without a strategy won't get you far. Our eBook dives deep into the world of social media marketing, revealing proven tactics and strategies that will help you stand out from the crowd.
Discover how to craft engaging content that resonates with your followers, attract new customers, and ultimately boost your sales. With our step-by-step guide, you'll learn how to navigate the ever-changing social media landscape and leverage it for your business's success.
Stop wasting time and start seeing real results. Get your hands on our "Social Media Marketing Made Simple" PLR eBook today and unlock the power of social media for your business in the twenty-first century.
Some of the valuable information that you will learn from this eBook include:
What social media marketing actually is
The key elements of social media marketing
Why you need to develop a strategy 
Examples of goals that you can set
The importance of setting realistic goals
Conducting appropriate research into your industry and competition
Why you should define your target audience
How to choose the right social media platforms
Why it can be better to pick fewer platforms
Why it is imperative to develop a brand
The visual aesthetics to your social media profiles
Acknowledging the difference between advertising and marketing
The pros and cons of different social media platforms 
The importance of analytics
Why engagement is key
The important of having quality followers
Using inbuilt insight tools
How to start to use third party analytics 
Growing your reach
Content creation tips
Creating a content calendar
Knowing when to post your content
Regular and frequent content 
Collaboration opportunities 
Paid and sponsored content
The best way to reply to your comments
Knowing when to update your strategy
Revaluating your goals
And so much more!
Includes ready sales materials!
---