Discover the secrets to unlocking your true running potential with "Sprints and Marathons," a comprehensive private label eBook. Whether you're a sprinter looking to enhance your explosive power or a marathoner aiming to boost your endurance, this expertly crafted guide is your ultimate resource.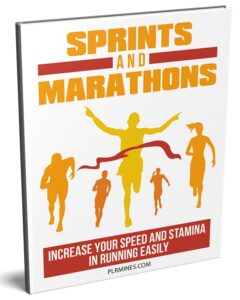 Written by top fitness experts, this eBook delves deep into the world of running mechanics, shedding light on the nuanced differences between sprints and marathons. Gain valuable insights into the contrasting training strategies, muscle fiber types, and physiological adaptations required for each discipline.
Unleash your speed in track events with our training tips tailored specifically for sprinters. Learn how to maximize your explosive force, improve your response time, and achieve new personal bests in 100m, 200m, or 400m races. Marvel at the accomplishments of world-class athletes who complete these events in as little as ten seconds!
For aspiring marathoners, we provide a wealth of knowledge on endurance training techniques. Discover how to cultivate slow-twitch muscle fibers that are essential for conquering the grueling 26.2-mile race. Marvel at the incredible feats of elite runners who cross the finish line in just over two hours!
Whether you're an amateur athlete or a seasoned competitor, this eBook will equip you with the tools needed to elevate your performance. From understanding muscle fiber types to implementing specialized training programs, "Sprints and Marathons" is your roadmap to success.
Don't settle for mediocrity—take control of your running journey today! Order "Sprints and Marathons" and unleash the true potential within you. It's time to sprint towards greatness or conquer marathons like never before!
---
Product Price: $4.95
Product Type: eBooksLicense: Private Label Rights

Category: Fitness PLRFile Size:  17.1 MB