Looking to skyrocket your business with the power of email marketing? Look no further than The AWeber Crash Course 4.0! With email marketing boasting an impressive ROI of $38 for every $1 spent, it's time to tap into this goldmine and unlock your business's full potential.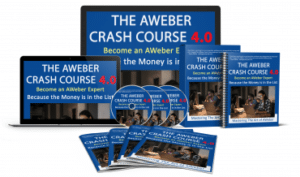 In a world where billions of emails are sent and received daily, it's crucial to have a strategy that sets you apart from the competition. That's where The AWeber Crash Course 4.0 comes in. This comprehensive video course will equip you with the knowledge and skills needed to build and monetize your email list using AWeber, one of the industry's leading email autoresponders.
From creating highly effective email lists and opt-in forms to crafting captivating templates and broadcast messages, this course covers it all. You'll also uncover the secrets behind creating eye-catching opt-in and landing pages that convert like crazy.
But that's not all! We'll even show you how to add animated GIFs to your emails, making your campaigns stand out in crowded inboxes and leaving a lasting impression on your subscribers.
Don't let this opportunity pass you by. Join the ranks of successful online marketers who harness the power of email lists filled with hot prospects and hungry buyers. Get ready to take your business to new heights with The AWeber Crash Course 4.0!
---
Product Price: $4.95
License: Private Label Rights

Category: E-Marketing PLRFile Size:  1400.4 MB