Unlock the power of Tik Tok's explosive growth with our Tik Tok Ad Mastery PLR eBook. With nearly 1 Billion active users, Tik Tok is not just a social media app – it's a global phenomenon. Capture the attention of younger generations and tap into viral trends with our comprehensive guide.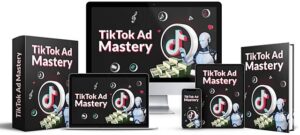 Discover how to leverage Tik Tok's advertising platform to reach your target audience and skyrocket your marketing efforts. Whether you're a business owner, marketer, or aspiring influencer, this eBook will equip you with the knowledge and strategies needed to create effective Tik Tok ad campaigns.
Learn the ins and outs of Tik Tok advertisements, from understanding ad formats to optimizing your campaigns for maximum impact. Gain valuable insights on how to connect with friends and family, explore different cultures, and most importantly, grow your fan base.
Don't miss out on this opportunity to stay ahead of the curve and take advantage of Tik Tok's immense potential. Grab our Tik Tok Ad Mastery PLR eBook today and unlock the secrets to a more effective marketing approach in the digital age.
Topics covered:
What is Tik Tok?
Origin of Tik Tok
Who Can Use it?
Statistical Verification of Tik Tok
Everything About Features in Tik Tok
How to Make a Tik Tok Account? 
How to Make a Video on TikTok 
How to Grow on TikTok?
How Does the Marketing and Advertising Work on Tik Tok?
Difference Between Alt and Elite Tik Tok.
Monetization from Tok Tok
And much more!
---
Product Price: $4.95
Product Type: eBooksLicense: Master Resale Rights

Category: E-Marketing PLRFile Size:  30.0 MB