Are you tired of feeling like there's never enough time in the day to accomplish everything you want?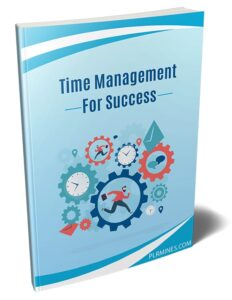 Introducing our Time Management for Success PLR eBook, your ultimate guide to mastering the art of time management and unlocking your full potential!
In this comprehensive ebook, we delve into the fundamentals of time management and provide practical strategies to help you make the most out of your precious time. Say goodbye to wasted hours and hello to increased productivity, success, and fulfillment.
Chapter 1 sets the stage by highlighting the importance of time management in our fast-paced world. We invite you to reflect on your current approach to time management and explore how it impacts your daily life. Have you ever found yourself juggling multiple tasks at once or struggling to stay focused? Our ebook will equip you with the tools and techniques needed to overcome these challenges.
Don't let another day slip away without making progress towards your goals. With our Time Management for Success PLR ebook, you'll gain valuable insights into effective time management strategies that can be applied in any area of your life – whether you're an employee, student, or simply someone seeking personal growth.
Don't miss out on this opportunity to take control of your time and transform your life. Get ready for a more productive and fulfilling future with our Time Management for Success PLR ebook!
---
Product Price: $4.95
Product Type: eBooksLicense: Private Label Rights

Category: Self Help PLRFile Size:  5.7 MB