Complete Guide To Planning Your Wedding On A Shoestring Budget! You have been dreaming of your wedding for so many years, fantasizing about how the music, the dancing, the friends and family present to help you celebrate the start of your lifetime commitment to your partner.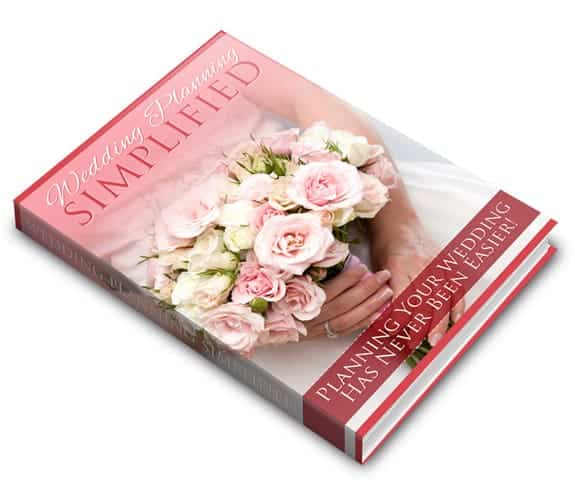 You've envisioned how your day will begin, with your maid of honor and bridesmaids there to support you every step of the way.. laughing with excitement as you have your hair and makeup done, knowing that within just a few short hours, you will finally marry the man of your dreams, and start a brand new chapter of your life, one that will be the most fulfilling journey you've ever taken.
You probably have your colors picked out, the style etched in your mind, and your own unique personality embedded into every elements.. every last, little detail.
You know exactly what you want, and you are ready to begin the process of putting it all together for that one big day that is approaching faster than you ever imagined..
You've come to discover that planning the perfect wedding is not only exhausting, frustrating and time consuming, but exceptionally expensive. Even if you trimmed down on the number of flowers or even the amount of guests, you are still way over budget.
It feels as though you will end up having to scrap the fantasy wedding you've been dreaming about, and perhaps go without some of the special elements that you really hoped could be included.
But do you, really?
Every year, wedding planners are hired to organize and plan weddings, sometimes elaborate, sometimes simple and intimate but regardless of the wedding type or theme, one thing is crystal clear:
Wedding planners can stretch every dollar, fitting every important aspect of your wedding into your budget, regardless how small your budget is.
The problem is that not everyone can afford a wedding planner, after all if you eliminate the need for a wedding planner, you just added a few hundred (if not thousand) dollars to your budget, right?
So, what do you do? You know you need the skills and knowledge of a wedding planner, but you would rather not have to spend money on it..
Well, here's your complete solution to planning your OWN wedding as if you were a skilled wedding planner with years of experience in the business!
Here are just a few of the many insider tactics to planning a wedding on a budget that you will discover within the pages of the Wedding Planning Simplified guide:
Discover exactly what you need to say when dealing with wedding vendors so that you are able to negotiate the best deals, stripping away hundreds of dollars in costs!
Tried and tested methods of purchasing your wedding attire at insanely reduced costs, regardless of how big your wedding party is! These strategies have saved couples thousands of dollars in costs that could be put towards your honeymoon!
How to choose the right reception location to ensure that your day is the best that it can be! Choose the wrong location and your wedding reception will be an absolute disaster! I will reveal the insider strategies of choosing the ultimate reception location regardless of your location or budget!
How to save $200.00 on your wedding invitations, instantly! These proven strategies will shave hundreds of dollars of your costs, easily!
How to plan out every detail, every element like a pro!! My step by step blueprint to wedding planning will ensure that you address every element like a professional wedding planner, giving you the ability to scoop up deals that are never available to "regular" brides without a representative doing business for them.
And much, much more!
---
License: Master Resale Rights

Category: Wedding PLRFile Size:  1.6 MB