Attention affiliate marketers! Are you ready to take your affiliate promotions to the next level? Introducing the Affiliate Bonus Booster PLR video series, your secret weapon to attracting super affiliates and skyrocketing your profits!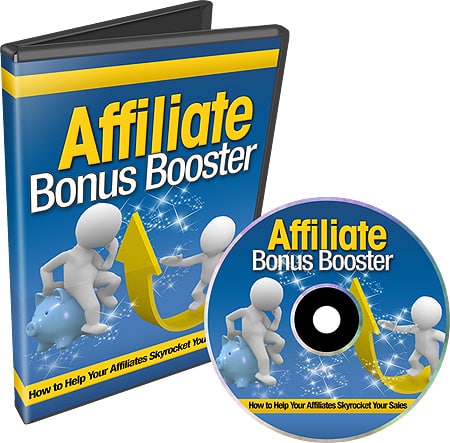 In this comprehensive 7-part video training course, we'll guide you step by step on how to create irresistible bonus products that will have super affiliates swarming to promote your products. Say goodbye to average promotions and hello to a profit-pulling affiliate machine!
Get started with Video 1, where we'll introduce you to the exciting world of Affiliate Bonus Boosting. Learn the insider secrets and techniques that will set you apart from the competition.
In Video 2, we'll help you unleash your creativity as we brainstorm bonus ideas that will captivate and motivate your affiliates. Discover how to create bonuses that add immense value and make promoting your products an easy choice for super affiliates.
But it doesn't stop there! Videos 3 to 5 will walk you through the process of creating bonus reports, videos, and webinars. We'll teach you proven strategies and tools to craft compelling content that leaves a lasting impact on both your affiliates and customers.
But wait, there's more! In Videos 6 and 7, we'll reveal two Super Affiliate Booster Ninja Tricks that will take your promotions to new heights. These game-changing techniques will delight super affiliates and supercharge your profits like never before.
Don't miss out on this opportunity to become a magnet for top-performing affiliates. Grab the Affiliate Bonus Booster PLR video series now and start building a profitable affiliate empire today!
---