Attention all bloggers! Are you ready to take your blog to the next level and turn it into a traffic-generating machine? Introducing the Better Blogging PLR eBook. Packed with insider tips, strategies, and secrets from top industry experts, this comprehensive guide will help you unlock the full potential of your blog and attract a flood of engaged readers.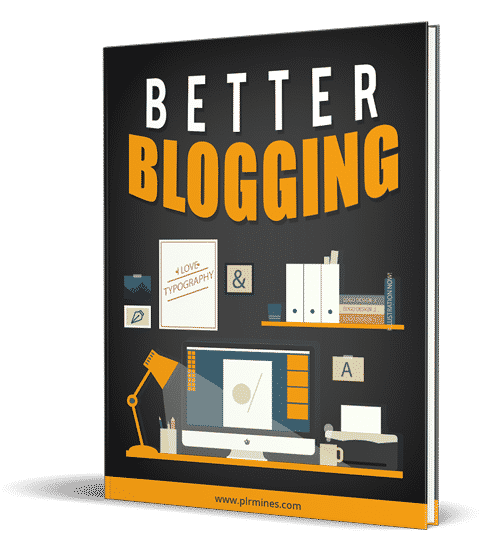 Whether you're a seasoned blogger or just starting out, this eBook is your ultimate tool for success. Don't miss out on this opportunity to skyrocket your blog's traffic and boost your online presence. 
Is your blog so flooded with traffic that you don't know what to do with it all?
If not, you're in luck because you are going to learn how to turn your blog into a hustling, bustling place literally in a few days time.
This is the complete system I use to ensure my blog not only gets tons of traffic, but gets visitors that are interested in what my blog covers.
As you probably know, getting targeted readers is what's going to make sure you have a responsive and vocal base of readers.
I'll share everything I've learned to generate traffic to your blog over the years without all the puffery.
You'll get only the information that worked so that you don't have to go through the same "trial and error" process that I did.
Simply check out the ideas I have for you, drop them in place, and watch your traffic and readership levels soar.
It's simple and completely doable for anyone, even the complete novice who just got started with a free WordPress blog!
Is your blog setup properly? If not, you're probably losing visitors who will make a mental note to avoid your site in the future!
Learn the simple setup tips that ensure your blog is optimized not only for the search engines but for your coveted reader!
Blogging doesn't have to be hard. All you have to do is follow the proven system I've used to consistently get my blogs noticed by big G (Google).
If you're ready to turn your blog form a hobby, or something you're just "messing around with," you need to hear what I have to share.
I literally learned how about blogging the hard way.
I spent a fortune on courses, books, and paid traffic sources to no avail.
After spending all of this money, I slowly learned, through a process of trying things on my own, what works.
The best part about this is that you get to learn what I did that worked and skip all the garbage that didn't work.
You can feel confident knowing you're only using proven ideas.
That means you'll see success faster and traffic faster!
After all, we all know that a blog needs traffic before it can be successful. It's like blood to the veins of a human!
---
License: Private Label Rights

Category: Internet PLRFile Size:  3.10 MB