Are you feeling overwhelmed by the various aspects of your life that require balance? Don't worry, we've got you covered! Introducing the "Finding Balance PLR Video" course, your ultimate guide to achieving harmony in all areas of your life.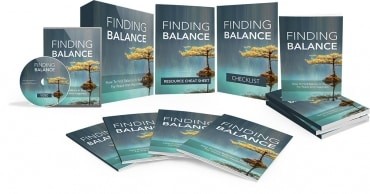 In this transformative video course, you'll discover step-by-step strategies tailored to your unique values and priorities. Whether it's finding equilibrium between work and personal life, maintaining a healthy lifestyle, or nurturing relationships, we'll provide the actionable steps you need to take.
We understand that simply identifying your values isn't enough. That's why our expertly curated content empowers you to take the necessary actions for tangible results. With our guidance, you'll effortlessly refocus your attention on what truly matters and make informed choices that lead to a more fulfilling life.
Don't let life's demands pull you in every direction. Take control and find the balance you've been longing for. Get started with the "Finding Balance PLR Video" course today and unlock a happier, more harmonious future.
Topics covered:
5 Consequences of Poor Work-Life Balance
5 Signs You Need to Ditch That Friend
5 Tips for Creating a Peaceful Home When Things Are Tense
5 Tips to Reclaim Control Over Your Unbalanced Life
Boundaries And Balance What You Need to Know
Finding Joy in Your Unbalanced Life
Saying No The Key to A Balanced Life
Wake up Call 5 Examples of An Unbalanced Life
Why Living an Unbalanced Life Is Dangerous +What You Can Do About It
Why you cant have your cake and eat it too
Includes ready sales materials!
---
Product Price: $4.95
Product Type: VideosLicense: Master Resale Rights

Category: Self Help PLRFile Size:  201.6 MB