Introducing the "Finding Balance" PLR eBook – your ultimate guide to reclaiming control of your life and achieving true balance. Are you tired of feeling overwhelmed, constantly playing catch-up, and sacrificing your personal well-being for the sake of your career? It's time to put an end to the cycle and discover the secrets to living a fulfilling, balanced life.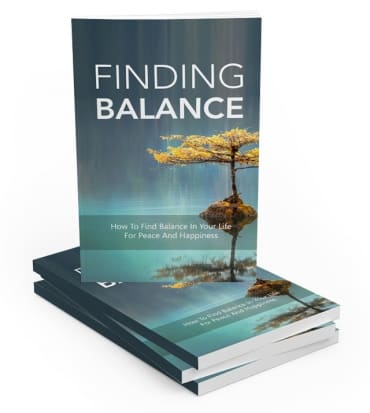 Inside this comprehensive eBook, you'll find expertly crafted strategies and practical tips to help you prioritize what truly matters, whether it's your health, relationships, or personal growth. Learn how to effectively manage your time, set boundaries, and create a harmonious work-life balance that leaves you feeling energized and fulfilled.
Say goodbye to burnout and hello to a life where you can excel in your career while still having time for yourself and loved ones. With the "Finding Balance" PLR eBook as your guide, you'll unlock the key to success in all areas of your life.
Don't let another day go by feeling exhausted and unfulfilled. Take control of your destiny and embark on a path towards a more balanced existence. Get your hands on the "Finding Balance" PLR eBook today and discover the transformative power of finding harmony in every aspect of your life.
Here's what you'll learn in this eBook:
How to choose your own set of values and priorities, shifting your mindset and giving up things that interfere with these priorities.
How to balance your career, without giving your whole life over to work. 
How to spend more time with your family, catching those important memories as they grow up. 
How to make meaningful relationships with friends and family and the best way to utilize these to make life fuller. 
How to add wellness and health into the hectic life that you live right now. 
The importance of hobbies and free time to help fill your cup and feel so much better. 
How to put it all together with action plans that actually give you the balance that you want.
And much more!
 Includes ready sales materials!
---
Product Price: $4.95
Product Type: eBooksLicense: Master Resale Rights

Category: Self Help PLRFile Size:  60.9 MB