Are negative people draining your energy and holding you back from achieving your full potential? Introducing the "Negate Negativity" PLR eBook, your ultimate guide to dealing with negativity in a healthy and empowering way.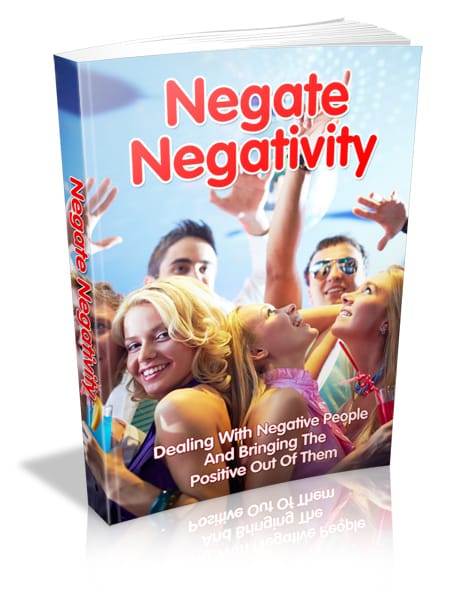 In this powerful resource, you will discover effective strategies to navigate through the complexities of dealing with consistently negative individuals. Whether it's in your personal relationships, business endeavors, or even within yourself, "Negate Negativity" provides you with simple tools that can make a world of difference.
We understand that changing negative people into positive ones overnight is wishful thinking. That's why this eBook focuses on empowering YOU to take control of your own life and well-being. Learn how to protect yourself from the harmful effects of negativity while maintaining your focus on success.
With the help of our expertly crafted content and practical advice, you'll gain valuable insights into understanding the psychology behind negative behaviors. Armed with this knowledge, you'll be equipped to respond effectively, without letting negativity affect your performance or hinder your progress.
Don't let negativity hold you back any longer. Grab your copy of "Negate Negativity" now and start reclaiming control over your life. It's time to rise above the negative noise and create a more positive and fulfilling future for yourself.
---
Product Price: $4.95
Product Type: eBooksLicense: Master Resale Rights

Category: Self Help PLRFile Size:  14.40 MB