Are you tired of feeling like a fraud? Don't let imposter syndrome hold you back any longer. Introducing the "Overcome Imposter Syndrome" PLR eBook, your ultimate guide to conquering self-doubt and unlocking your true potential.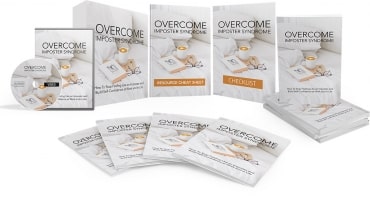 In this comprehensive video course, you'll discover powerful strategies to assess your achievements, identify the root causes of imposter syndrome, and eliminate it from your life for good. With expert guidance and practical exercises, you'll gain the confidence and mindset needed to thrive in any situation.
Don't face imposter syndrome alone – join a community of individuals who understand what you're going through. Empower yourself today and reclaim your success with this invaluable resource. Say goodbye to self-doubt and hello to a confident, fulfilled version of yourself. Get started now with the "Overcome Imposter Syndrome" PLR eBook!
Topics covered:
3 Surprising Signs You Have Imposter Syndrome 
3 Ways Imposter Syndrome Can Impact Your Career 
5 Different Types Of Imposter Syndrome
5 Things To Keep In Mind When You Fail 
5 Ways To Boost Self-Confidence At Work Today 
10 Tips For Overcoming Imposter Syndrome 
How Imposter Syndrome Is Holding You Back In Your Career 
How To Break The Cycle Of Doubt At Work
Understanding The Relationship Between Imposter Syndrome And Self-Confidence 
What Is Imposter Syndrome + 3 Ways To Fight It At Work 
Includes ready sales materials!
---
Product Price: $4.95
Product Type: eBooksLicense: Master Resale Rights

Category: Health PLRFile Size:  152.1 MB