Break free from the chains of phone addiction and regain control of your time and productivity with our transformative course – "Overcome Phone Addiction: Unlock Your Potential".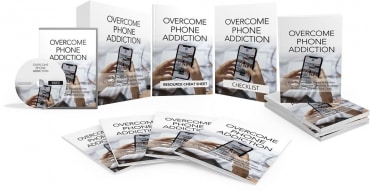 In today's digital age, we understand how tempting it is to stay glued to our phones, constantly scrolling through social media feeds or mindlessly engaging in endless entertainment. But imagine the possibilities if you could redirect that time and energy towards activities that truly matter – pursuing your passions, nurturing relationships, and achieving your goals.
Our comprehensive course equips you with the tools and strategies necessary to break bad phone habits once and for all. With expert guidance, you'll learn effective techniques to reduce phone addiction, create healthy boundaries, and reclaim your precious time.
No more feeling overwhelmed or pressured for time due to excessive phone usage. By investing in yourself and prioritizing what truly matters, you'll rediscover the joy of hobbies, unlock your creativity, and experience a newfound sense of fulfillment.
Don't let phone addiction control your life any longer. Take charge of your destiny today with our "Overcome Phone Addiction" course – because your time is too valuable to be wasted on mindless scrolling. Start living a more productive and purposeful life now!
Topics covered:
5 Healthy Cell Phone Habits
5 Hobbies to Help you Manage Your Phone Addiction
5 Steps to Use your Phone Less
Best Ways to Spend Less Time Scrolling
How to Spot a Phone Addiction In Others
How to Test if You're Addicted to Your Phone
Spending a day away from your Phone
Why Everyone Should take Breaks from Social Media
Why Its easier than ever to become addicted to your phone
Why Social Media is so addictive
---
License: Master Resale Rights

Category: Self Help PLRFile Size:  196.8 MB