With this video course you will discover how to incorporate positivity and mindfulness to secure your mental health.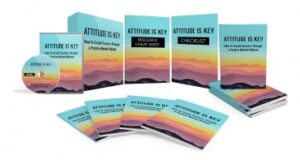 If you can learn to keep a positive mental attitude through all the hard things that come with life, you are setting yourself up for success in many different ways.
Overcoming negative beliefs can really be difficulty, but once you have mastered the art of thinking positively, you'll see that your life has changed for the better. 
You'll also see that your complete mindset can change just when you put in some positive thinking and the effort of putting in forth to take charge of your mental health. 
Becoming a more positive thinker and changing your mental outlook can be very hard when you are on your own and do not have any external resources. 
Topics covered:
5 Quick Tips to Staying Positive While Under Pressure
How To Avoid Negative Thinking During Times Of Stress
How to Change Your Mindset for a More Positive Mental Attitude
How to Inspire Others to Have a Positive Mental Attitude
What Makes a Positive Mental Attitude Work
What To Do When You Are Feeling Negative All The Time
What To Steer Clear From To Maintain A Positive Attitude
What's Causing Your Attitude To Be Negative (And How To Fix It)
Why You Should Never Mistake Setbacks For Failure
Will A Positive Mental Attitude Help You Succeed In Your Goals?
Includes ready sales materials!
---
Product Price: $4.95
Product Type: VideosLicense: Master Resale Rights

Category: Self Help PLRFile Size:  747.0 MB