We all hear from time to time about people who thought they had erased certain files from their hard drive, only to discover that they were there all the time, just hidden from view.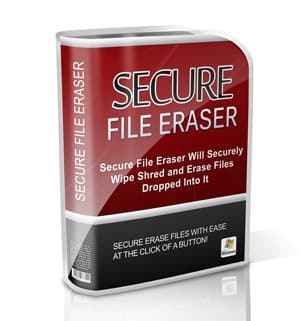 With the risk of identity theft always on the rise, somebody who access to your computer would be able to find out a lot of information about you – information that you would not want out in the public. You may think you deleted that financial record, confidential e-mail from her friend, or the document containing all of your passwords. In the hands of a skillful and determined identity thief, your computer could be hacked and all those files stolen.
Would you like to be able to securely delete files permanently and quickly? Now with "Secure File Eraser" you can! This amazing piece of software is easy-to-use and erases files forever. All you have to do is drag and drop the files you want to be deleted into the "Secure File Eraser," and they're gone for good.
The bad guys are working around the clock to find new ways to hack into your computer without your knowing about it. While you need to protect your information in a variety of ways, "Secure File Eraser" is one tool you need to permanently delete confidential information. Don't wait! Download your copy today and see how easy it is to use.
---