If you or someone you know has suddenly lost interest in the things they normally love, has trouble sleeping, or sleeps too much, there is a possibility that it's depression.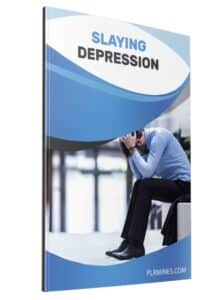 Sometimes depression is subtle, and sometimes it can be in your face. The main thing to note is that if you're feeling hopeless, sad, and empty for more than two weeks, you probably are suffering from depression.
Thankfully, depression is very treatable.
Major depression affects more than 7 percent of the US population. Sadly, most of the people suffering don't know that they're suffering and don't seek the appropriate help.
Usually, the reasons for not getting help involve not having the right insurance, not being able to afford the care, or not accepting that they have a problem because it's considered a made-up problem by their circle of family and friends.
Since depression is a treatable disorder, this is sad. If you do seek treatment, you're a strong person who can recover.
Don't allow the stigma or even money stand in your way. There are often places that can help you, regardless of your financial abilities. You'll be glad you did.
---
Product Price: $4.95
Product Type: eBooksLicense: Private Label Rights

Category: Self Help PLRFile Size:  10.0 MB