Unlock your leadership potential with the Speak Like A Leader PLR Video course. Imagine effortlessly influencing and inspiring those around you, commanding attention with every word you speak. This comprehensive course empowers you to cultivate powerful communication skills, enabling you to lead with confidence and authority.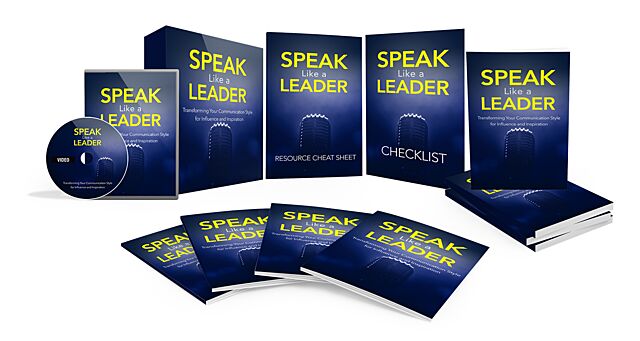 Gone are the days of struggling to find the right words or feeling powerless in your interactions. With this video course, you'll gain invaluable insights and proven techniques that will transform your communication style. Learn how to captivate your audience, motivate your team, and influence others to embrace their own leadership capabilities.
Don't waste another moment trying to figure it out on your own. This meticulously crafted course is designed to guide you step-by-step towards speaking like a true leader. Embark on this transformative journey today and unlock the doors to success in both your personal and professional life.
Topics covered:
5 Examples of Real World Leaders Who Wielded the Power of Communication 
5 Reasons Why Communication is a Must-Have Skill For Leaders 
5 Tips for Storytelling for Stronger Communicators 
10 Do's and Don'ts of Communication For Leaders 
10 Tips For Communicating Like A Leader In Times of Challenge 
10 Tips to Follow to Become an Effective Speaker 
How to Get People to Listen to Your Message Instantly 
How to Overcome the Fear of Public Speaking as a Leader
How to Sharpen Your Communication Skills As a Leader 
One-on-One vs Group Communication_ The Tale of the Tape 
Includes ready sales materials!
---
Product Price: $4.95
Product Type: eBooksLicense: Master Resale Rights

Category: How To PLRFile Size:  226.8 MB