Unlock your true potential as a leader with the "Speak Like A Leader" PLR eBook. In today's digital age, many of us have lost the ability to connect with others face-to-face, leaving us feeling unsure and lacking confidence when speaking to an audience or group. But fear not! This comprehensive guide is here to help you become a captivating and influential speaker, whether it's on stage or in the workplace.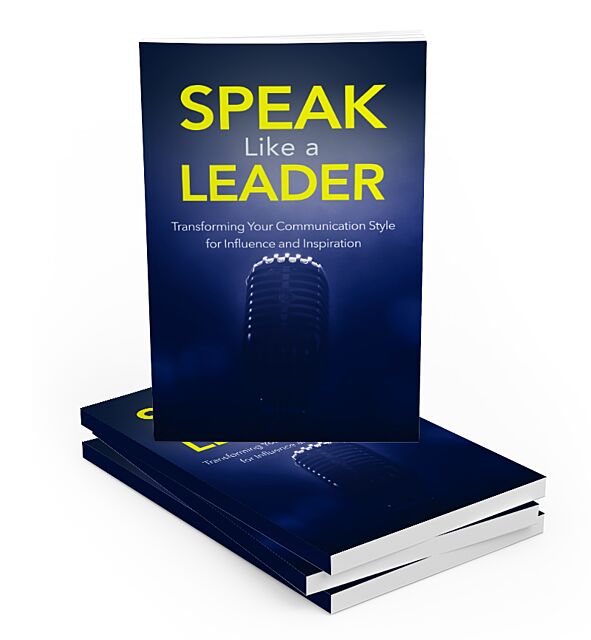 Even if you believe you weren't naturally gifted with the art of speaking, this eBook will show you that anyone can become a leader if they put in the effort. Packed with valuable insights and practical tips, you'll learn how to engage people, communicate effectively, and inspire those around you.
With this resource in your hands, you'll gain the skills necessary to command attention, influence others, and leave a lasting impact. Don't miss out on the opportunity to become a true leader in every aspect of your life. Grab your copy of "Speak Like A Leader" now and start your transformation today!
Topics covered:
Why effective communication is so important when it comes to leadership.
How communication can impact and inspire.
How to build your leadership philosophy.
How to connect your narrative to your audience.
How to use tone, pacing, and emphasis to make a more impactful speech.
How to use storytelling to convey the message you want for your audience.
How to use your body language and non verbal cues to lead others and make your speech more inspirational.
And so much more!
Includes ready sales materials!
---
Product Price: $4.95
Product Type: eBooksLicense: Master Resale Rights

Category: How To PLRFile Size:  43.9 MB