Introducing the "Speak With Confidence PLR eBook" – your ultimate guide to conquering your fear of public speaking and delivering unforgettable presentations! Say goodbye to sweaty palms and racing heartbeats as you step onto the stage or join a virtual meeting on Zoom. This comprehensive eBook is packed with proven strategies and expert techniques to help you master the art of public speaking.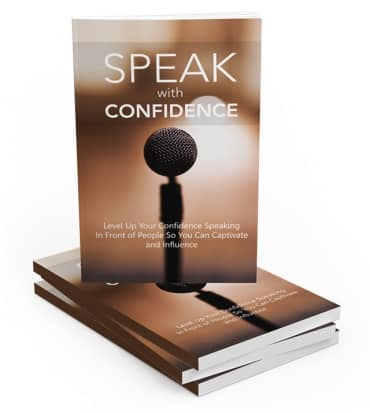 With our step-by-step instructions, you'll learn how to prepare like a pro, engage your audience effortlessly, and handle unexpected questions with confidence. No more stumbling over your words or feeling overwhelmed by judgment. This eBook is designed to empower you with the expertise and self-assurance needed to captivate any audience.
Whether you're a seasoned speaker looking to enhance your skills or a beginner stepping into the world of public speaking, this guide has got you covered. Unleash your true potential and become a captivating speaker who leaves a lasting impression on every listener.
Don't let fear hold you back any longer. It's time to transform into a confident speaker who commands attention and delivers impactful presentations. Grab your copy of "Speak With Confidence PLR eBook" today and unlock the secrets to becoming a remarkable public speaker!
Here's what you'll learn in this ebook:
How to avoid filler language that distracts from the message.
The importance of body language to help you present well while avoiding negative body language that makes public speaking hard.
How to properly do the research so you have plenty of topics for your speech, making you the most knowledgeable person in the room.
How to use vocal exercises to help with pronunciation and more.
The power of a pause and why you should choose to use them in your speech.
How to speak on a Zoom or other online medium in our modern world.
The importance of practicing to help you get better and better, building up the confidence that you need.
And much more!
Includes ready sales materials!
---
Product Price: $4.95
Product Type: eBooksLicense: Master Resale Rights

Category: Self Help PLRFile Size:  59.6 MB