Attention all marketers and email enthusiasts! Introducing the AWeber Crash Course 4.0 Advanced – the ultimate guide to mastering AWeber, the go-to email list-building program used by industry leaders in online marketing.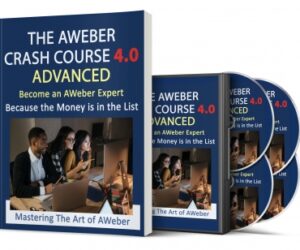 In this comprehensive video course, you'll unlock a treasure trove of insider tips and tricks that will revolutionize your email marketing strategy. Learn how to skyrocket your subscriber count and maximize your revenue from your existing list like never before.
Discover the power of our secret money-making email template that will captivate your audience from the moment they open it. Say goodbye to writer's block with the AI built into AWeber, which automatically generates high-quality, professional emails at lightning speed.
Stand out from the competition by accessing over 3 million royalty-free images for your email messages, thanks to the Unsplash Button integration. Engage with your subscribers like never before by resending emails exclusively to those who missed out on the first round.
AWeber's innovative features don't stop there – witness how it creates stunning email templates based on your website's color scheme and images, ensuring consistent branding across all platforms.
Segmentation is key to success in email marketing, and we'll show you exactly how to tag subscribers and create different segments within your lists for targeted campaigns that yield incredible results. Even as subscribers sign up for their 'Free Report,' you can effortlessly tag them for personalized follow-ups.
Don't miss out on this opportunity to elevate your email marketing game with our proven strategies and techniques. Join countless others who have unlocked the immense potential of AWeber Crash Course 4.0 Advanced. Get ready to write high-quality professional emails that convert like never before!
---
Product Price: $4.95
License: Private Label Rights

Category: E-Marketing PLRFile Size:  553.9 MB