Unlock your full earning potential with "The Side Hustlers Blueprint" PLR eBook. This comprehensive guide is your ticket to financial freedom, providing you with the insider knowledge and step-by-step strategies needed to start a profitable side hustle. Whether you possess a unique skill set or have a hidden talent, this eBook will show you how to leverage it and get paid while helping others.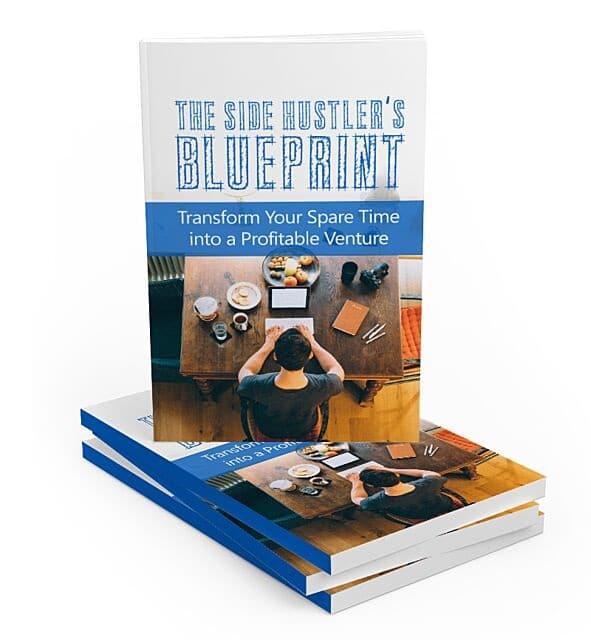 Imagine the confidence you'll gain as you learn the secrets of building a successful online side business. With the power of the internet, your reach extends beyond borders, allowing you to serve customers from around the world. The flexibility and freedom that come with a side hustle are truly captivating.
Don't hesitate any longer – take control of your financial future today. Let "The Side Hustlers Blueprint" be your guide on this exciting journey towards earning more money and achieving total financial independence. Get ready to unlock new opportunities and embrace a life of abundance!
Here is what you will learn in this guide
Learn how to embrace the kind of mindset you need to build your side hustle.
Identify profitable opportunities by assessing your skills, researching the market, and evaluating your ideas.
Plan for success with the help of creating a simple business plan while setting goals that you can easily achieve.
Build an online presence that will help you reach your ideal customers from all over the world.
Effective marketing strategies to help you get the word out. Even if you have nothing to spend in your marketing budget.
Time management strategies to help you invest more of it into your side hustle while achieving the best work/life balance possible.
Scaling and growing your side hustle and strategies to get it done with ease.
Overcoming the challenges that come with building a side hustle while improving your success rate for years to come.
And so much more!    
Includes ready sales materials!
---
Product Price: $4.95
Product Type: eBooksLicense: Master Resale Rights

Category: E-Business PLRFile Size:  52.0 MB