Introducing the Total Mental Resilience PLR eBook – your ultimate guide to building unshakeable mental strength in the face of life's challenges. Life may not always be a bed of roses, but with this powerful resource in your hands, you'll discover the tools and strategies to navigate even the toughest times with grace and resilience.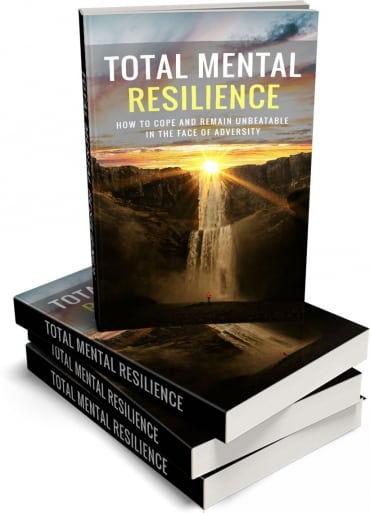 Don't let life's hardships bring you down. This comprehensive eBook empowers you to embrace adversity as an opportunity for growth and transformation. Packed with expert insights and practical exercises, it equips you with the mental fortitude necessary to conquer any obstacle that comes your way.
Why settle for a life filled with despair and hopelessness when you can cultivate a mindset of resilience? Join the ranks of those who refuse to be defeated by life's setbacks. With our guide by your side, you'll gain the strength and courage needed to overcome adversity and thrive in any situation.
Remember, mental resilience is not just a luxury – it's a necessity for navigating today's fast-paced world. Don't be another statistic in the rising rates of depression and suicide. Take control of your mental well-being today with our Total Mental Resilience PLR eBook, because true strength lies in bouncing back stronger than ever before.
Here is what you'll learn:
The one fact about life (and resilience) that most people don't know.
How to use adversity as a stepping stone to future success.
3 reasons why adversity is inevitable and how to come it.
Why you should embrace challenges instead of avoiding them.
3 little known facts about adversity and how you can use them to your advantage.
6 rich and famous people who were molded in the furnace of adversity and what you can learn from them.
The surprising benefits of being strong in the face of life's obstacles.
Why lack of resilience could literally cost you your life.
How to exude confidence and tranquility even in the worst situations.
6 dangers of withering under life's pressures and how to avoid them.
How to build an unbreakable spirit that will help you take on life with courage.
The quickest, easiest way to start seeing challenges as opportunities.
How to bounce back after a setback and build resilience.
Includes ready sales materials!
---
License: Master Resale Rights

Category: Self Help PLRFile Size:  61.6 MB